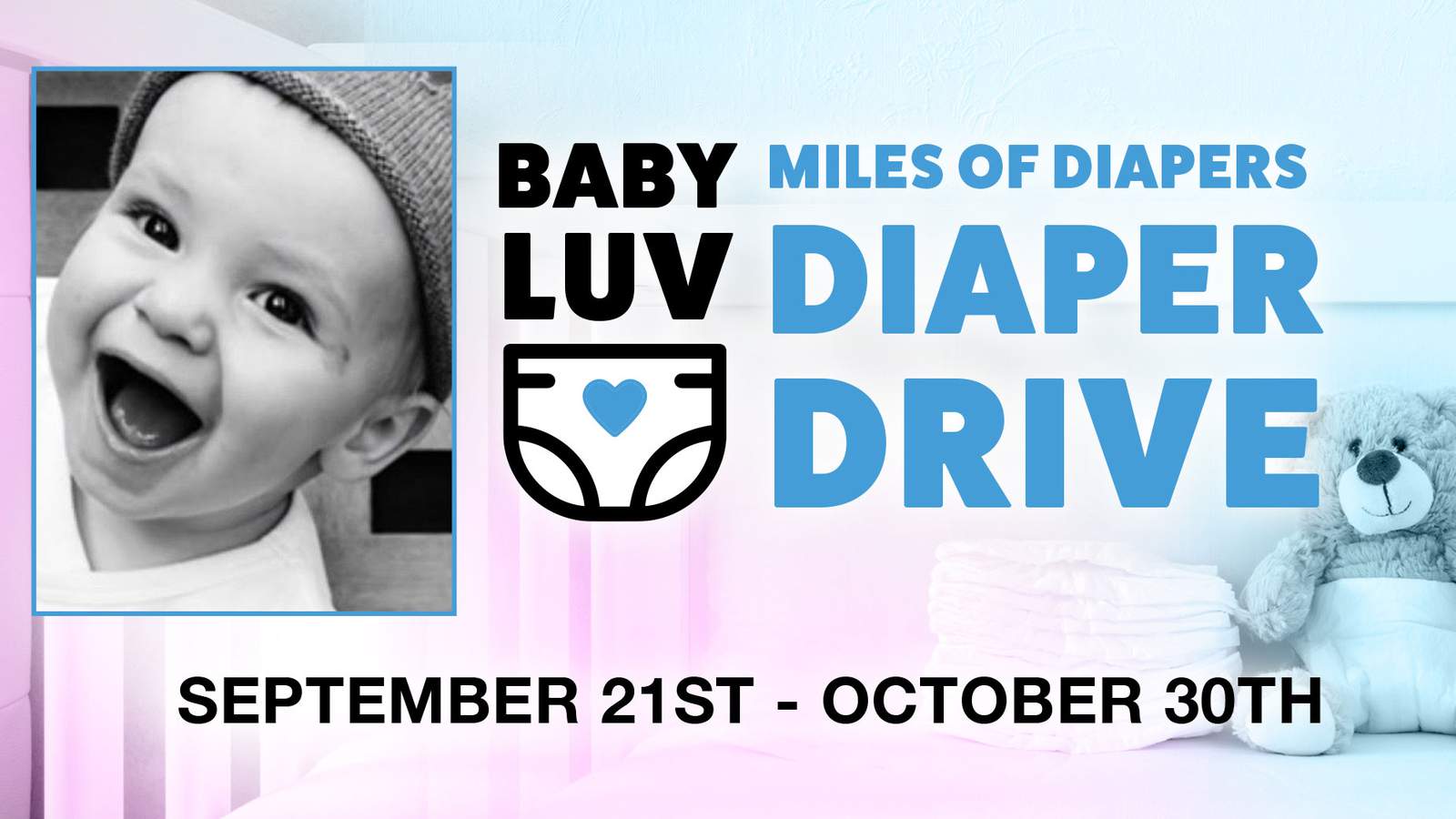 Please Contact us if you would like to make a cash donation to families in need.
TIRE OUTLET, WJXT CHANNEL 4, AND FIELDS AUTO GROUP ACCEPTING DONATIONS ON BEHALF OF COMMUNITY HEALTH OUTREACH FOR THEIR MILES OF DIAPERS DIAPER DRIVE

Baby Luv at Community Health Outreach, which serves up to 600 families each month who need diapers and baby supplies, is holding a Miles of Diapers collection drive.
Each baby with diaper needs will receive 50 diapers per month thanks to Miles of Diapers donations. That could mean as many as 20,000 diapers distributed per month.
Infant formula is also an ongoing need. Please help by donating diapers, wipes, and formula.
ACCEPTED DONATIONS

Diapers
All sizes, especially sizes 5-6


Baby Wipes
Unscented/sensitive preferred

Baby Food
All kinds, jars, pouches, etc

Ziplock Bags
Used to parcel out baby wipes


Infant Formula
All kinds are accepted


Baby Cereal
All kinds are accepted

Amazon Wish List: https://smile.amazon.com/hz/wishlist/ls/2LG8ZD4LDQG3A?&sort=default

From Sept. 21 through Oct. 30, there will be collection boxes at WJXT, Channel 4, Fields Auto Group Dealerships, Tire Outlet stores and Community Health Outreach of Jacksonville. (See all addresses below.)
Drop off locations
WJXT studios, 4 Broadcast Place
Community Health Outreach, 5126 Timuquana Road
Fields Auto Group dealerships: Fields Cadillac, 7999 Blanding Blvd. | Lexus of Orange Park, 7040 Blanding Blvd. | Mercedes Benz Orange Park, 7018 Blanding Blvd. | Porsche Jacksonville, 10100 Atlantic Blvd. | Lexus of Jacksonville, 10259 Atlantic Blvd. | Mercedes Benz Jacksonville, 10231 Atlantic Blvd. | Land Rover Jaguar | 11217 Atlantic Blvd. | Cadillac St. Augustine, 375 Outlet Mall Blvd.
Tire Outlets: 9213 Merrill Road | 1250 3rd Street North | 10220 New Berlin Road | 4854 San Juan Ave. | 10995 N Main Street | 250 San Marco Ave. | 11460 Beach Blvd. | 463371 State Rd 200 in Yulee
Fields Auto Group

770 W Frontage Rd
Northfield, IL 60093


Fields Motorcars Orlando

2202 33rd St
Orlando, FL 32839


Bentley Orlando

2202 33rd Street
Orlando, FL 32839


Fields Cadillac Jacksonville

7999 Blanding Blvd.
Jacksonville, FL 32244


Fields Auto Sport Tuning

770 Frontage Road
Northfield, IL 60093


Fields Auto Group

2100 W Frontage Rd
GLENCOE, IL 60022


BMW of Asheville

31 Skyland Inn Drive
Arden, NC 28704


Fields Chrysler Jeep Dodge Ram

255 Smokey Park Hwy
Asheville, NC 28806-1140


Fields Mazda of Asheville

255 Smokey Park Highway - Suite B
Asheville, NC 28806


Jaguar Asheville

496 Cardinal Road
Mills River, NC 28759


Land Rover Asheville

496 Cardinal Road
Mills River, NC 28759


Mercedes-Benz of Asheville

255 Smokey Park Highway
Asheville, NC 28806


Smart Center Jacksonville

7018 Blanding Blvd.
Jacksonville, FL 32224


Fields For Less

750 Towne Center Blvd
Sanford, FL 32771


BMW of Asheville

31 Skyland Inn Drive
Arden, NC 28704


Fields BMW Orlando

FL 32837


Fields BMW Lakeland

4285 Lakeland Park Drive
I-4 @ Exit 33
Lakeland, FL 33809


Fields BMW of Daytona

1050 N. Tomoka Farms Rd.
Daytona Beach, FL 32124


Fields BMW Winter Park

963 N Wymore Road
Winter Park, FL 32789


Fields BMW South Orlando

9750 South Orange Blossom Trail
Orlando, FL 32837


Fields BMW Winter Park

963 Wymore Road
Winter Park, FL 32789


Fields BMW Northfield

700 W Frontage Road
Northfield, IL 60093


Fields Cadillac St. Augustine

375 Outlet Mall Blvd.
St. Augustine, FL 32084


Fields Chrysler Jeep Dodge Ram

2800 Patriot Blvd.
Glenview, IL 60026-8041


Fields Chrysler Jeep Dodge Ram

750 Towne Center Blvd
Sanford, FL 32771-7493


Fields Chrysler Jeep Dodge Ram

255 Smokey Park Hwy
Asheville, NC 28806-1140


Fields Collision Jacksonville

56 Jackson Rd
Jacksonville, FL 32225


Fields Collision Center Orlando

4429 North John Young Parkway
Orlando, FL 32804


Fields BMW of Daytona

1050 N. Tomoka Farms Rd.
Daytona Beach, FL 32124


Fisker of North Shore

770 Frontage Road
Northfield, IL 60093


Fisker Orlando

199 S. Lake Destiny Road
Orlando, FL 32810


Fields Lexus Glenview

2000 Waukegan Road
Glenview, IL 60025


Fields Lexus

2100 W Frontage Rd
GLENCOE, IL 60022


Lexus of Jacksonville

10259 Atlantic Blvd
Jacksonville, FL 32225


Lexus of Orange Park

7040 Blanding Blvd
Jacksonville, FL 32244


Fields Jaguar Land Rover Volvo Madison

504 East Badger Road
Madison, WI 53713


Fields Volvo Cars Madison

504 East Badger Road
Madison, WI 53713


Jaguar Madison

504 East Badger Road
Madison, WI 53713


Land Rover Madison

504 East Badger Road
Madison, WI 53713


Fields Mazda of Asheville

255 Smokey Park Highway - Suite B
Asheville, NC 28806


Fields Motorcars

4141 N. Florida Ave.
Lakeland, FL 33805


fieldsnorthfield

2100 W Frontage Rd
Glencoe, IL 60022


Fields BMW Northfield

700 W Frontage Road
Northfield, IL 60093


Land Rover Northfield

670 Frontage Road
Northfield, IL 60093


Jaguar Northfield

670 Frontage Road
Northfield, IL 60093


Fields Volvo Cars Northfield

770 Frontage Road
Northfield, IL 60093


Fields Volvo Cars Waukesha

1901 East Moreland
Waukesha, WI 53186


Fields Jaguar Land Rover Volvo Waukesha

1901 E Moreland Blvd
Waukesha, WI 53186


Fields Volvo Cars Waukesha

1901 East Moreland
Waukesha, WI 53186


Jaguar Waukesha

1901 E. Moreland Blvd.
Waukesha, WI 53186


Land Rover Waukesha

1901 E. Moreland Blvd.
Waukesha, WI 53186


Fields Auto Group

250 Skokie Valley Road
Highland Park, IL 60035


Bentley Orlando

2202 33rd Street
Orlando, FL 32839


Jaguar Asheville

496 Cardinal Road
Mills River, NC 28759


Land Rover Asheville

496 Cardinal Road
Mills River, NC 28759


MINI of Glencoe

2100 Frontage Road
Glencoe, IL 60022


Land Rover Orlando

199 South Lake Destiny Dr
Orlando, FL 32810


Jaguar Jacksonville

11217 Atlantic Blvd.
Jacksonville, FL 32225


Jaguar Asheville

496 Cardinal Road
Mills River, NC 28759


Jaguar Northfield

670 Frontage Road
Northfield, IL 60093


Land Rover Asheville

496 Cardinal Road
Mills River, NC 28759


Land Rover Jacksonville

11217 Atlantic Blvd
Jacksonville, FL 32225


Mercedes-Benz of Asheville

255 Smokey Park Highway
Asheville, NC 28806


Mercedes-Benz of Jacksonville

10231 Atlantic Boulevard
Jacksonville, FL 32225


Mercedes-Benz of Orange Park

7018 Blanding Blvd
Jacksonville, FL 32244


Orlando MINI

350 S. Lake Destiny Dr
Orlando, FL 32810


Porsche Jacksonville

10100 Atlantic Blvd
Jacksonville, FL 32225